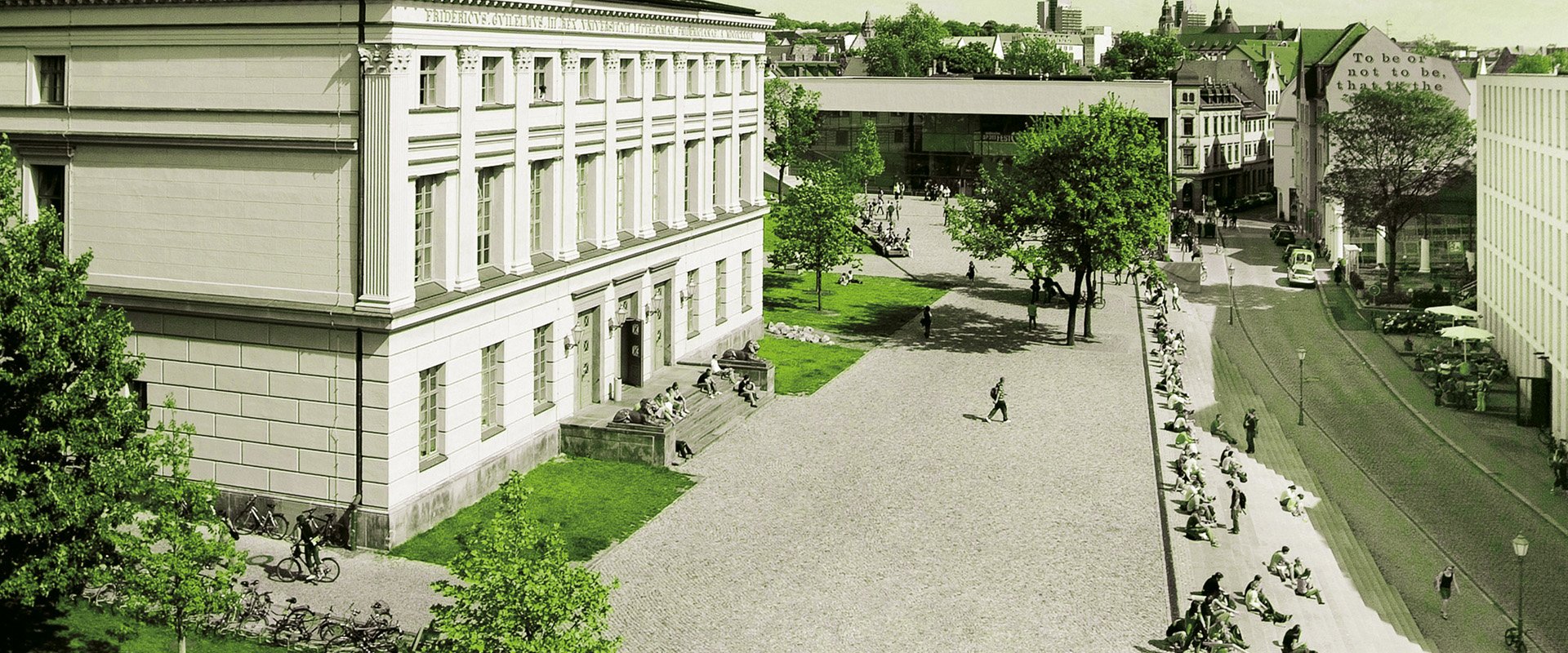 Drawing Attention to a Lion.
The Initial Situation
The German university and higher education sector is characterized by a multi-faceted range of opportunities, a far-reaching and diverse history, as well as international renown and active involvement in shaping the future. At the same time, the worldwide opportunities for potential international students are as diverse as the outstanding attributes of other universities, colleges and universities of applied sciences.
Thus, a German university is faced with the challenge of making itself heard not only domestically but especially in the international pool of opportunities for potential students. In this huge market for knowledge, opportunities, self-realization and future possibilities, a large variety of influences and factors come together that contribute to choosing a university.
Martin Luther University Halle-Wittenberg (MLU)
Martin Luther University Halle-Wittenberg is located in Halle an der Saale in the heart of Central Germany and is the largest forge of knowledge in Saxony-Anhalt. With 260 different study programs, MLU is characterized as a full university and is a magnet for many potential students from Germany and abroad. With its 6 campuses and 9 faculties, the MLU shapes the cityscape of Halle, which is the reason why the city and the university belong together in a symbiotic relationship. Excellent conditions for studying and learning are characterized by the combination of tradition and modernity. This is reflected in the number of around 20,000 students and is also rooted in the awareness of a 500-year-old academic tradition.
The MLU stands out in the university and higher education realm with convincing arguments, but this alone is not always enough to hold its own against the competition in a world that is constantly growing together and changing rapidly.
Where many call out loudly, a lion as such has an advantage that should not be underestimated, one might think. And so it is! But for precise and goal-oriented perception, the lion must also be given the necessary attention! However, the attention should not be drawn to the loudest lion, but the one with good arguments.
Our Cooperation
This is exactly one of many challenges and at the same time goals that we face as a consulting partner together with the International Office (IO) of MLU! Although there are many new challenges in the context of a digitalizing and constantly changing world, there are also additional, specific problems that need to be solved. The IO's crucial role ensures the implementation of one of the three MLU main principles besides diversity and sustainability, and that is internationality. However, there is no lack of international support for MLU. On the contrary, a rising number of applicants was surprisingly not reflected in a corresponding increase in the number of immatriculations.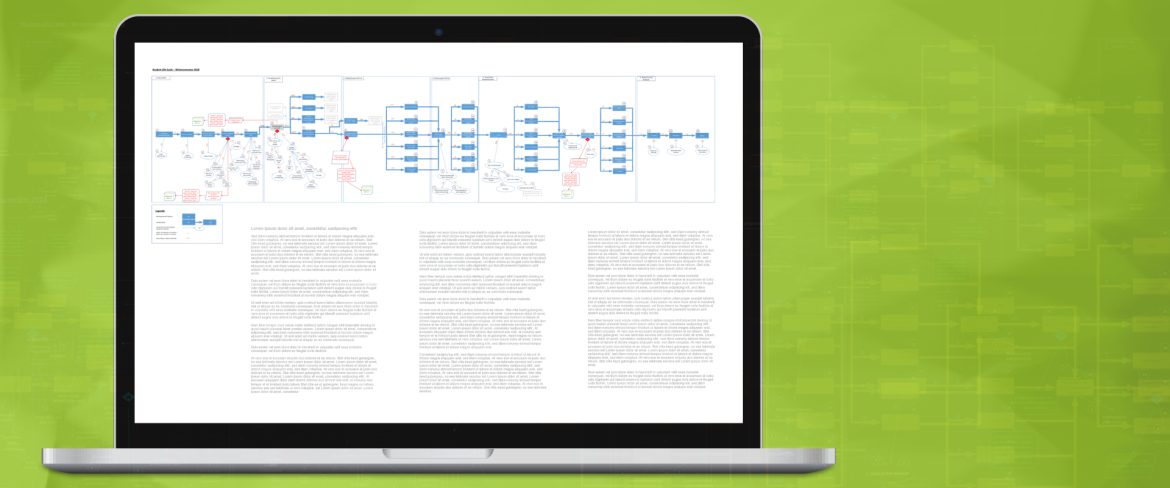 Based on this finding, we started our cooperation in 2016 with an in-depth analysis of structures, data, materials, challenges, and objectives. A so-called student lifecycle was used to illustrate the process of enrolling foreigners in German universities.
These results in terms of complex content and specific data not only made it easier to identify the challenges to be faced, but also formed the basis for decision-making. We consider this structured and data-based approach to be essential when supporting our clients in project management.
A comprehensive catalogue of measures supplemented a long-term and holistic roadmap, which showed the numerous subtasks in relation to each other. On this basis, a to-do list was also drawn up, which enables priority-based implementation and can be easily adapted to current changes.
The focus of the objectives and measures is on process optimisation and reduction of resources, but above all on developing digitization strategies and processes. In the course of the long-term orientation of the project, continuous progress tracking, constant analyses and, when necessary, adjustments of measures and priorities are an essential part of the cooperation.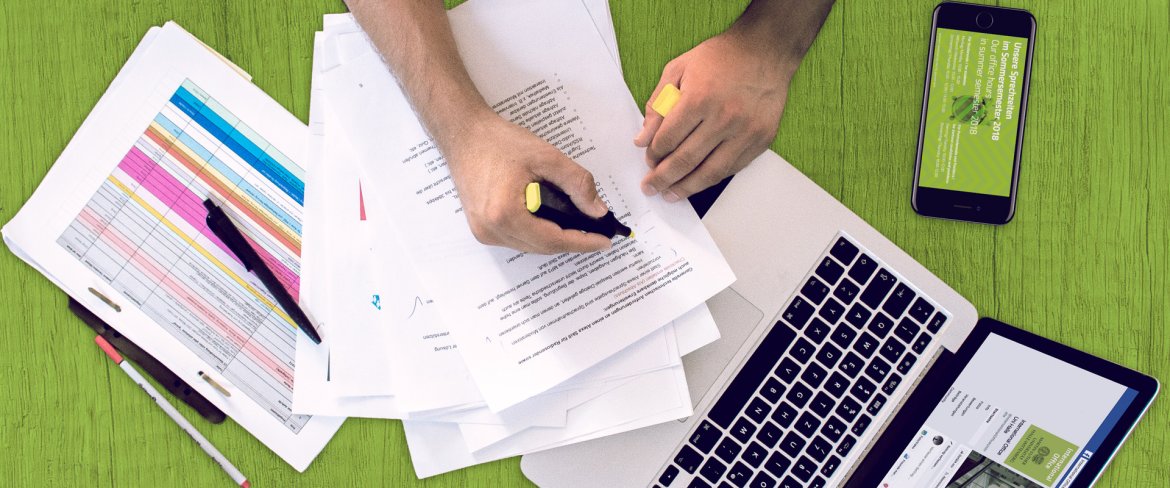 Achieved Milestones
In addition to consulting, implementing specific measures is also part of the cooperation. In this context, the microsite mlu-lion.com was designed and implemented as an interface of a communication mix for the external presentation of MLU. A chatbot was also developed as part of the social media strategy for Facebook and the MLU website. It primarily serves to relieve the communication workload for employees of the IO. Moreover, as part of a holistic communication strategy for addressing potential international students and their parents at international events, print products were created conceptually up to the printed completion. Here, the interdisciplinary linking of analogue and digital measures was the focus of the flyers for selected target countries.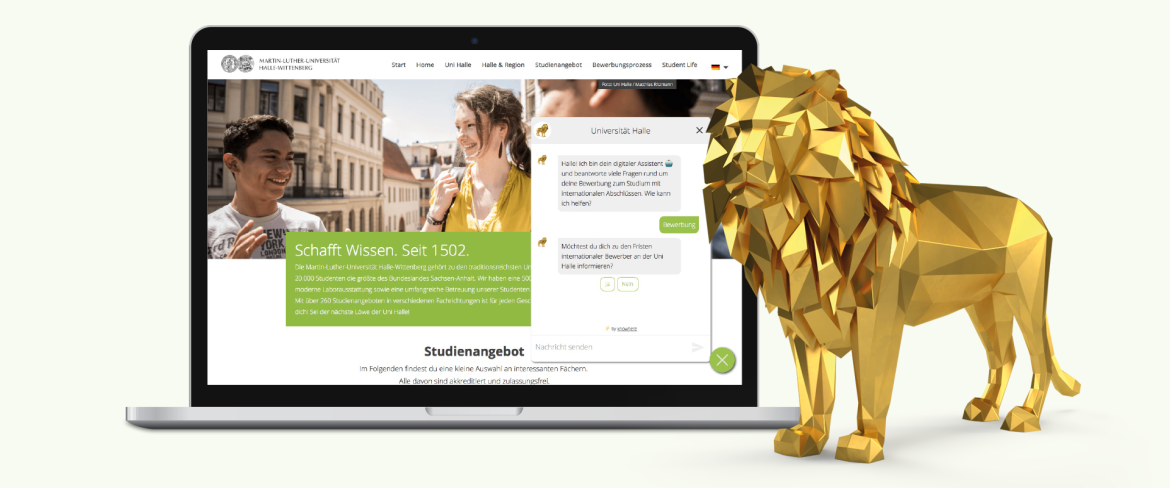 The presentation of MLU as a worthwhile university in a versatile and attractive city, located in the middle of a promising hotspot of prospects for the future (Central Germany) are factors that make up the basic arguments for the external presentation and formulation of objectives. Another essential feature of our cooperation with the IO in this project is the integration of our know-how, creative ideas, and expertise into existing structures during the implementation. The optimization measures of communication and structures go hand in hand with existing guidelines at MLU. Consensus and coordination with all involved persons are just as important to us as the tangible advancement of goals and success-oriented, sensible measures.
As a result, many updates and continuous further developments have been made in the course of the four-year cooperation. This includes adjustments of individual measures as well as current supplementary measures. For example, due to the global COVID-19 pandemic and its effects. We also continue to be concerned with the numerous future-oriented ideas in connection with the entire project. This multifaceted major project with an exciting client makes us proud and we hope to continue to support the Lion with advice and action.